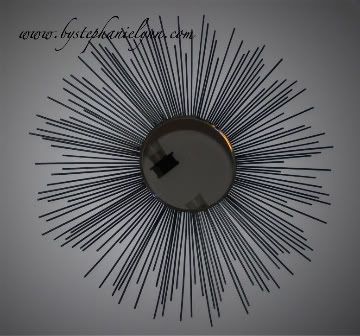 How brilliant are these starburst mirrors made from cereal boxes and wooden skewers? Amazingly clever aren't they! If you have scissors and a glue gun you can make a few of these ingenious goodies for your own pretty casa. Just follow the link to bystephanielynn.com. The weather forecast here is for rain all weekend, so I'm pretty sure there won't be any cereal boxes left in my house!
Been so busy with the coastal kitchen renovation! (Kitchen Inspirations ) Today we are recovering Michelle's island in the bead-board we purchased at Lowes and painting it a rad shade of turquoise. A special thanks to the nice man at the store who cut all the panels and trim for us -- despite our measurements of "31" and three lines past the half mark!" (Note to self, re-learn third grade math!)
trimacpanel.com
I also bought a few bottles of porcelain paint at Michael's and mixed up turquoise for the old white tiles I found in my basement. Yup, gonna paint all the tiles in this beautiful turquoise then apply a small crackle finish, add some dark glaze to showcase those cracks, and finally apply a high gloss finish to protect them. A lot of work to be sure, but I think the results will be fantastic and so worth it! This is the inspiration: gorgeous, aren't they!
Can't wait to show you how they came out!
Have a wonderful weekend!