Christmas Eve is nearly here at last! Time to get everything ready for our Christmas Eve dining extravaganza, or
réveillon.
We have 18 cherished family and dear friends joining us to celebrate the holiday. Everyone brings something - usually (uh... hopefully!) their best dish -- it's a huge feast! (I will be working it off for months!)
I've also been working on a new color scheme for the dining room this year of white, turquoise, silver, teal and gold. Going with the glama-rama this year!
Why I can't do things the same from year to year is beyond me. I'm always seeking perfection and just make more work for myself!
studio5.ksl.com
So I've been painting teal stripes on old gold ornaments, dip dying old white napkins for a delicious ombre effect, and well just going crazy with the spray paint and did I mention, I am glitter happy? Anything to get my color scheme right. It's a messy process though. (Does anyone know how to get teal dye off your nails? Uh, seriously!) I guess a designer has to suffer for her work! LOL!
youstirme.com
I just realized that I'm trying to recreate the ocean...
Here are a few photos that inspired my color scheme. Yes, it's rather bling-a-licious!
I will be busy in the kitchen all day today - at least after I survive the crowd at the grocery store! I am making bouche de noel for one of the deserts.
My china is vintage aqua with gold I bought at a junk store for $25.00. As they say in soccer, SCORE!
asubtlerevelry.com
I'm not quite sure how I will fold the ombre napkins yet... (ignore the lavender napkins! Sorry, I couldn't find a photo of finished ombre napkins!)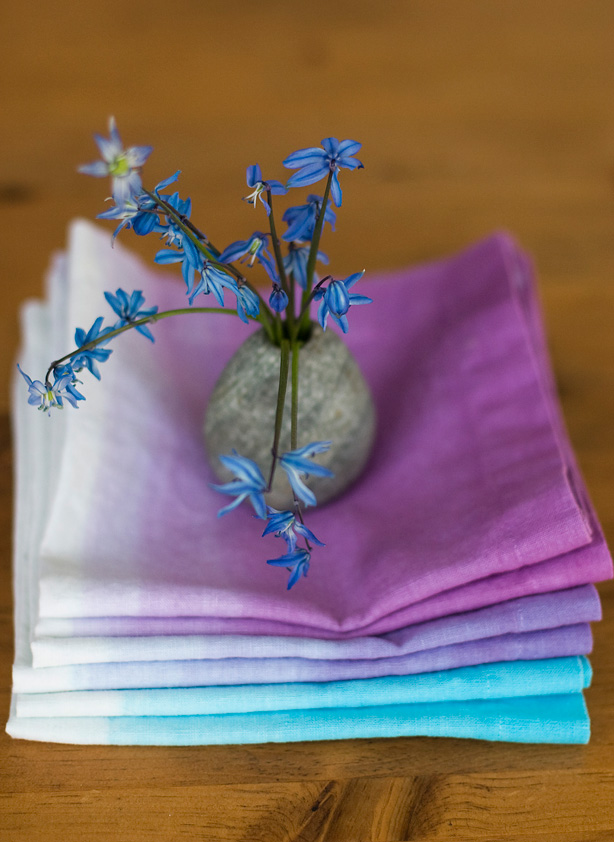 google.com
Even though I love my kitchen (well, usually) I still wish I was slaving away in this kitchen!
belgianpearls.blogspot.com
via Pinterest
I so want to wish each and every one of you the merriest Christmas, the happiest Hanukkah, a jolly Boxing Day, and a fabulous Kwanza.
do you still believe in magic?
Whatever holiday you celebrate, I hope its filled with love, joy, and most of all, peace.